Microsoft, via its blog, announced the launch of the redesigned Notepad for Windows 11, which contains a host of changes. The original Notepad had maintained its UI for several generations of Windows OS, starting from Vista, Windows 7, Windows 8, Windows 10, and will finally be seen in a new look with the Windows 11. In the blog, the Microsoft team stated that "productivity, performance, and reliability are paramount in Notepad", and that Notepad will continue to excel in these fields.
The UI has been completely transformed, with the Notepad app now having rounded edges and the introduction of Mica giving it a fresh feeling, a welcome change from the dull and boring Notepad UI that has not changed over the years. However, perhaps the biggest news is the introduction of the dark mode, a much-requested feature from Windows users over the years.
Some other useful features added are a new and improved find and replace the engine, alongside a much-needed multi-level undo feature. The menu options have increased in size, and there's a settings button in the top right.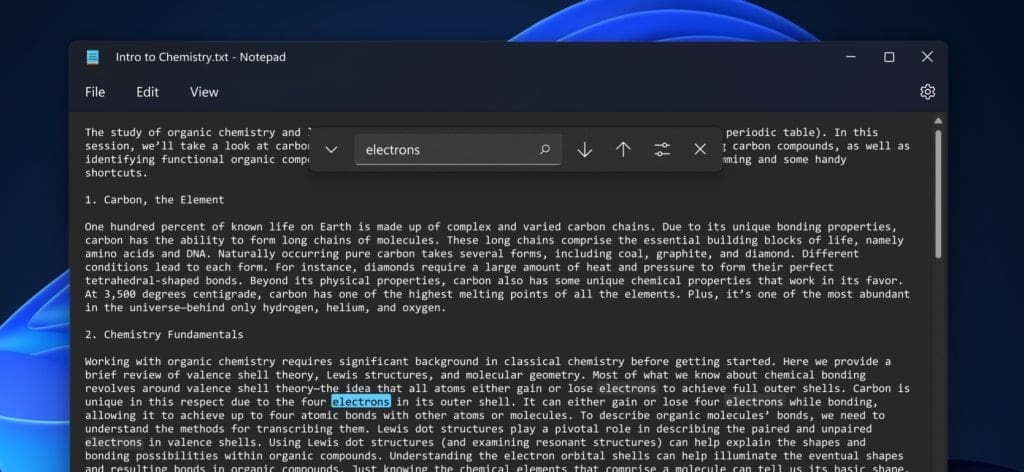 The earlier version of Notepad opened a small pop-up tab for finding and replacing of text, but the update now opens a small toolbar in the middle of the application, making it a much more hassle-free experience.
The introduction of the multi-undo feature is a hugely underrated change, as you could only undo your last change in earlier versions, making it a cumbersome task in case you made multiple mistakes while working.
Notepad's new interface now matches the rest of the Windows 11 theme, sleek and fluent. Microsoft finally seems to have gotten around to updating the UI of its various desktop apps, and is slowly balancing the design language across all Windows apps to the new Windows 11 interface. Looking at it from the pictures, one cannot disagree that the app does feel "fresh, but familiar" just how Microsoft claims it should look.
The update to Notepad follows shortly after updating the UI of the classic Paint app. For now, it is available for Windows 11 Insiders using the Dev channel, but will soon enough be released for the general public.