Discover the Magic of NameDrop in iOS 17: Exchange contact info effortlessly, enjoy stunning animations, and experience lightning-fast connections on your iPhone! Learn how to use it now.
Prerequisites for Using NameDrop in iOS 17
Before diving into the exciting NameDrop feature, ensure both iPhones have iOS 17 Developer Beta 2 installed. Here are a few key points to remember:
Install iOS 17 Developer Beta 2 on both iPhones.
Position the top parts of the iPhones close together, aligning the earpiece and front camera areas.
Keep in mind that as iOS 17 is in Beta, NameDrop may occasionally require toggling AirDrop or unlocking the screen for optimal functionality.
Using NameDrop to Exchange Contacts on iPhone
Swipe down from the top right on both iPhones to open the Control Center.
Touch and hold the network block, then tap the AirDrop icon and choose Everyone for 10 Minutes.
Bring the two iPhones close together and witness the animation with glow effects.
Both iPhones will display Contact Posters in iOS 17. Choose to Share or Receive Only.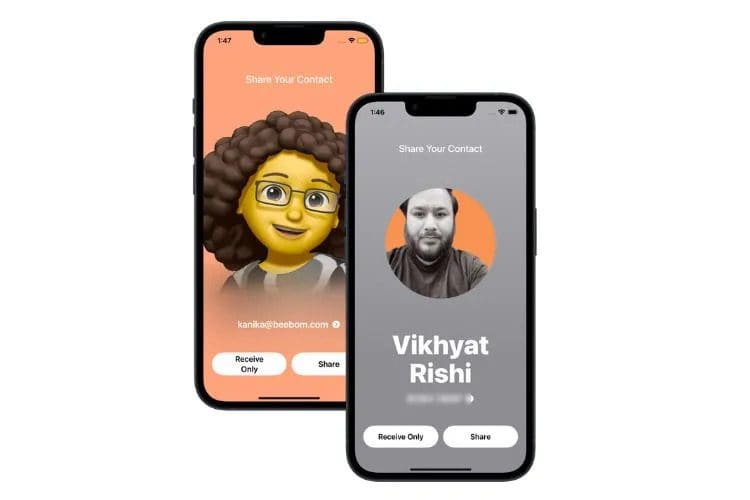 To share your contact details, tap Share. The other person can select Receive Only or Share.
Tap Receive Only if you want to receive contact details without sharing yours.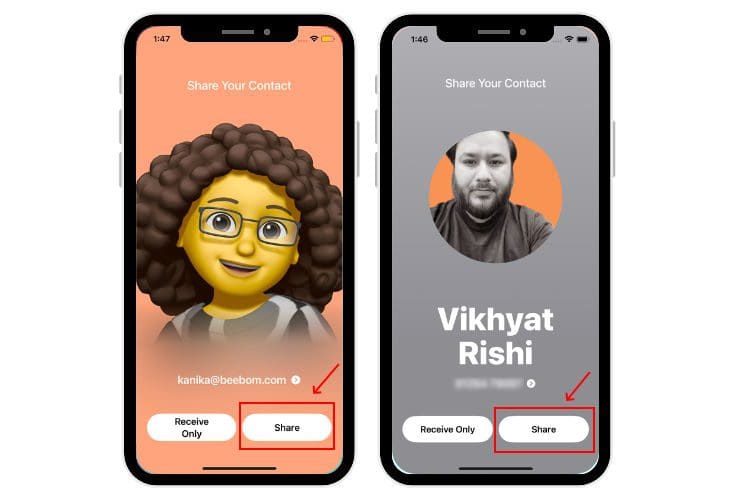 The devices will exchange contact details, including email, phone number, and other information.
Save the received contact details by tapping Done. You can edit the received contact if needed.
Once you have shared contact details, an AirDrop notification will appear when using NameDrop again. Tapping the notification reveals the contact card. Alongside NameDrop, iOS 17 Developer Beta 2 introduces the ability to tap two iPhones for file sharing via AirDrop. If AirDrop doesn't appear on nearby devices, simply hold the top of your iPhone close to another iPhone for file transfer.
FAQs
What Does NameDrop do in iOS 17?
NameDrop in iOS 17 enhances AirDrop, enabling contact sharing by bringing iPhones or Apple Watches closer. It also supports content sharing and SharePlay for compatible iPhones in close range.
Can I Utilize NameDrop on my iPhone?
NameDrop is compatible with iPhone XR and newer models running iOS 17 Beta 2.
Why Can't I Use NameDrop on my iPhone?
Ensure both you and the recipient have iOS 17 Developer Beta 2. Enable AirDrop for Everyone on both devices and ensure the iPhones are in close proximity.