Get ready for the Qualcomm Snapdragon Summit 2023, where the highly anticipated Snapdragon 8 Gen 3 is expected to be revealed.
Snapdragon Summit 2023: It's Happening
Breaking with its traditional December timeline, Qualcomm has recently revealed the exciting news of the upcoming Snapdragon Summit 2023. Set to occur in October, this early scheduling marks a departure from last year when the chipmaker moved the event to November. Delve into the article for more in-depth information on this eagerly anticipated summit.
The summit would be taking place from October 22 to October 26 in Maui, Hawaii. Brace yourself for the launch of the powerful Snapdragon 8 Gen 3 chipset and Qualcomm's custom Oryon CPU for PCs. These innovations are set to enhance the performance and efficiency of upcoming Arm-based Windows 11 laptops in 2024.
Leaks suggest that the Snapdragon 8 Gen 3, codenamed "SM8650," will feature a prime Cortex-X4 CPU core clocked at 3.7GHz, alongside 5 performance and 2 efficiency cores. This new 1+5+2 CPU architecture promises significant performance boosts compared to its predecessor's 1+4+3 configuration.
With the Adreno 750 GPU, the Snapdragon 8 Gen 3 will deliver an exceptional graphical experience. It will be crafted using TSMC's 4nm process with N4P Node, ensuring improved efficiency for the chipset. Stay tuned for more exciting updates at the Snapdragon Summit.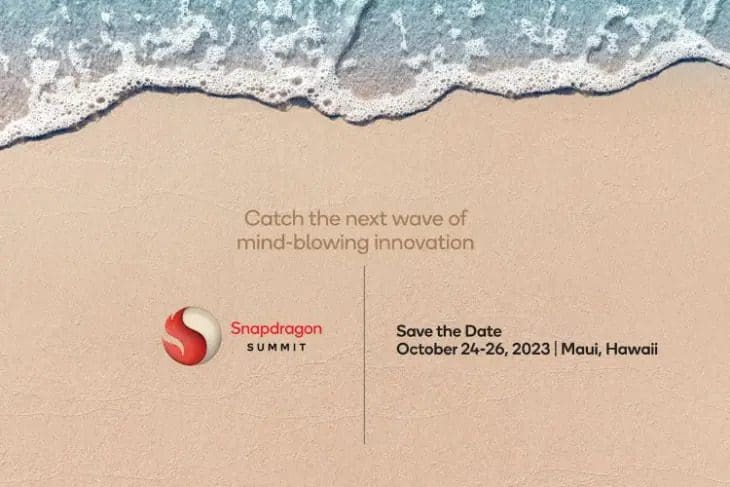 The Snapdragon 8 Gen 3 chipset will likely be the frontrunner in powering most of the 2024 flagship smartphones. The first devices, including the Xiaomi 14 and the OnePlus 12, are expected to hit the market in November. Following suit, the Galaxy S24 series, Motorola, iQOO, Realme, and other manufacturers will join the lineup. Keep in mind that some late 2023 devices may also feature this powerful chipset.
While specific details about the Snapdragon 8 Gen 3 remain undisclosed, we anticipate learning more as the launch date approaches. Rest assured, we'll keep you informed as soon as we receive further updates. In the meantime, feel free to share your thoughts on the upcoming Snapdragon 8 Gen 3 processor in the comments section below. Stay tuned!