Our lives revolve around that six inches we carry in our pockets these days and while we enjoy the latest of developments and memes on our smartphones, we knowingly and/or unknowingly give away many of our valuable data and preferences; from what we like to eat, where we like to spend on, to our location (and much more). And since we are not going to give up using our smartphones, and the tech companies aren't going to stop monetizing our data – we might as well get paid for it.
That's where ZmBIZI phones come in. ZmBIZI, a Los-Angeles based startup that is trying to make our smartphones work for us. The ZmBIZI Z2 (ZmBIZI's latest smartphone) and the company as a whole are "curated and aggregated to reward the person who uses it". The phone's primary selling feature is that you can earn ZmBIZI coins (each coin is equivalent to $0.01 USD) by using partnered applications or completing natural smartphone tasks. Once you accumulated at least $20 USD in coins, you can transfer the coins onto a digital Visa debit card preloaded on your phone, allowing you to use them in the real world.
ZmBIZI Z2 – Full Specifications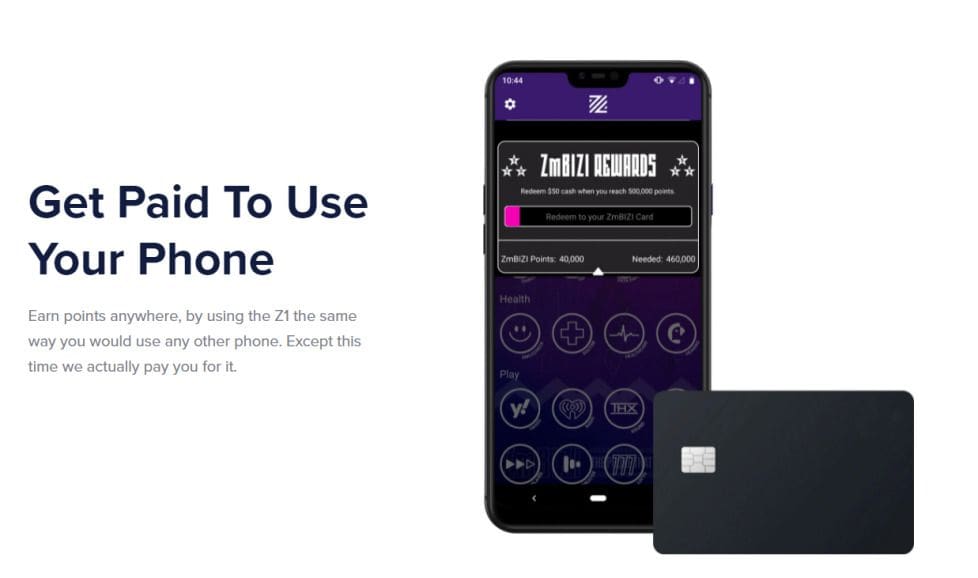 I understand it pays me my pie of data valuables but is this phone worth carrying around? – Packing on MediaTek Helio P60 processor accompanied by 8GB RAM and 128GB of storage, it stands at 6.67-inch Full HD+ LCD display (1080 x 2400 pixels; 20:9 aspect ratio). Backed by a 4,400mAh battery alongside a Dual-SIM slot, it's definitely a considerable option (of course, if this one's gonna pay me back).
Further, the Z2 carries four cameras on its back; It has a 64-megapixel rear camera, a 16-megapixel wide-angle, 5-megapixel macro, and a 0.3-megapixel photosensitive one, but no audio jack. According to a review by PCMag, the Z2 appears to be a rebadged version of Cubot X50, and there are reasonable claims to back that. Though there is much difference as well – ZmBIZI Z2 has a feature that accepts "tap-to-pay payments" for contactless transactions and from other phones which can prove to be a major coup for small businesses. The stores down the lane from my house don't accept those online apps and work on a cash-only basis. If ZmBIZI manages to push those economies – that'd be massive.
Let's not get carried away. According to their own spec sheet, the Z2 runs only on Category 7 LTE phones which means that the network will work slow. This indicates this will work well on AT&T but will certainly have some coverage problems with T-Mobile as it lacks LTE band 71.
At $550, I won't certainly recommend going for it. We've seen many of these start-ups lure us and disappoint in the end. So I am at a state where this no more gets me excited – hopefully, ZmBIZI proves me wrong.