Who doesn't love a tune to back on when we're playing our favourite game, and with PS5 – there has been an option to tune into Spotify since it launched in November. Though that could all be about to change as it looks like they might introduce Apple Music alongside Spotify as an alternative to get your audios up.
The initial clue came when a Reddit user tried to link up his Spotify and saw the Apple Music option available. Although when he tried to get the Apple Music setup – it didn't work with an error message displaying, "This app is playable only on PS4" – one user claim that these messages are standard when the app isn't available. Below is the image that Reddit user shared: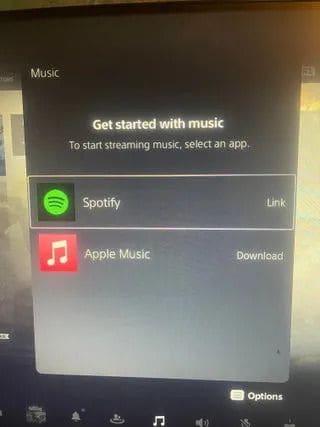 Eurogamer (another Reddit user) said that when he tried to make a new US account he did see the Apple Music option although he wasn't able to reproduce the same. While writing this one, I tried making a US account myself but didn't see any such options. These inconsistencies may indicate a sneak-peek into something probably in works by Apple and Sony.
The two companies have been working closely lately; From Apple TV Plus promotion for PS5 owners to bringing Apple Music to Samsung smart TVs last year.
This coming just a couple of days before Apple's unleashed event scheduled on 18th October makes me want to read more between the lines – probably an announcement about having Apple Music on PS5 coming then?