Apple has announced an update for the iMovie app on Macs (including the optimization for just launched M1 Pro and M1 Max chips) that will let the user adjust and edit focus in the videos recorded on iPhone 13's newly introduced "cinematic mode." The update will roll out on October 25th.
The cinematic mode was introduced amidst the latest line of iPhones back in September where the AI automates focus to key parts of the frame – usually the biggest face and/or the one looking at the camera. Along with the automates it also lets users adjust focus to the key part of the frame during recording or when you playback and want to focus on something else. Now the iMovie users with the latest macOS Monterey will be able to do the same with their Macs.
Following are the release notes for iMovie 10.3:
Cinematic Mode
• Edit videos recorded on iPhone 13 in Cinematic mode (requires macOS Monterey)
• Use the Cinematic control in the inspector to modify the intensity of the depth effect
• Choose to focus on faces or other objects by selecting them in the viewer
• View and delete focus points in the video timeline
Optimized for Apple silicon
• Improved performance and efficiency with optimizations for M1 Pro and M1 Max on the new MacBook Pro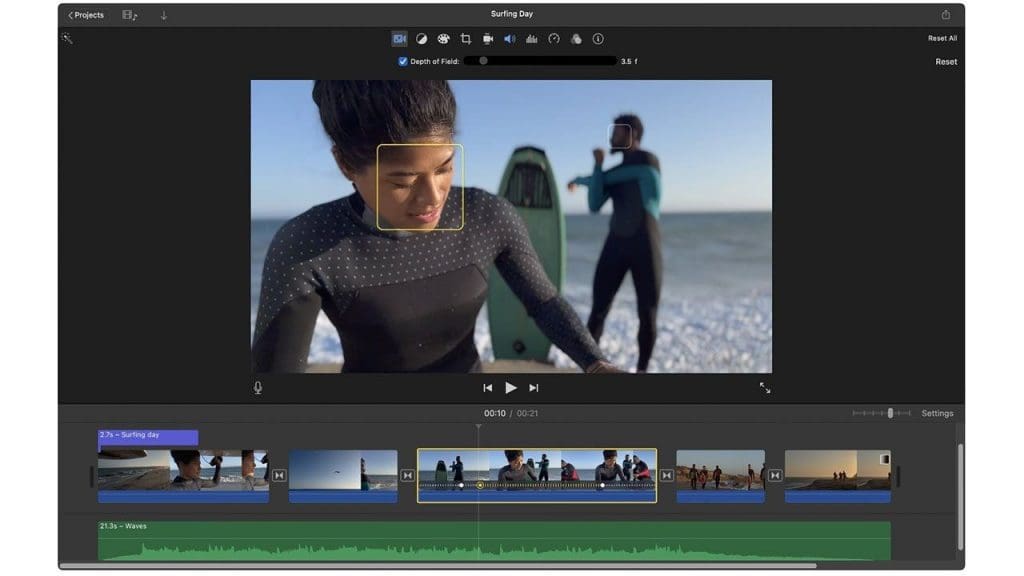 The iMovie has also been optimized for M1 Pro and M1 Max chips just as they did with Final Cut Pro and Logic Pro. These new chips are more powerful and will help deliver at least 70% better performance than the original M1.