In a highly anticipated announcement, Qualcomm has introduced its latest mid-range mobile platform, the Snapdragon 7s Gen 2.
As part of the esteemed Snapdragon 7 series, this chipset promises to bring a significant performance boost to forthcoming smartphones, including the eagerly awaited Redmi Note 13 Pro, scheduled for release in China.
Snapdragon 7s Gen 2 in Focus
The Snapdragon 7s Gen 2 is crafted using the advanced 4nm process, signifying a noteworthy leap in efficiency and power optimization. At its core, this formidable chipset features an octa-core configuration, with clock speeds soaring up to 2.4GHz. Comprising a Kryo CPU and an Adreno GPU, it's poised to deliver a seamless and responsive user experience.
One of the standout features of the Snapdragon 7s Gen 2 is its photography prowess. Equipped with a 12-bit Qualcomm Spectra Triple ISP (Image Signal Processor), it demonstrates an unwavering commitment to photographic excellence. Users can anticipate capturing breathtaking 4K HDR photos, thanks to this innovative ISP. Furthermore, an AI-based De-Noising Engine enhances image clarity, particularly in low-light conditions. Qualcomm Low Light technology takes this a step further by ensuring impressive low-light photography, illuminating scenes that were once shrouded in darkness.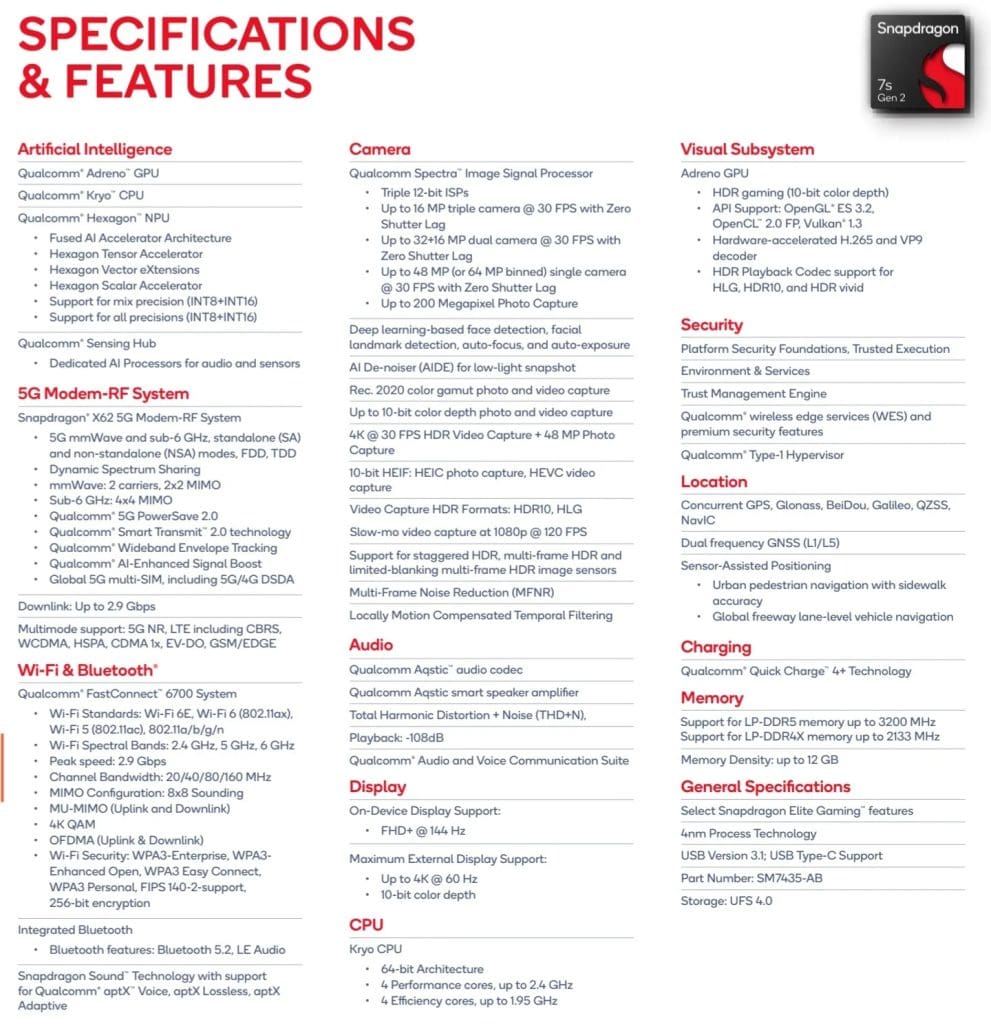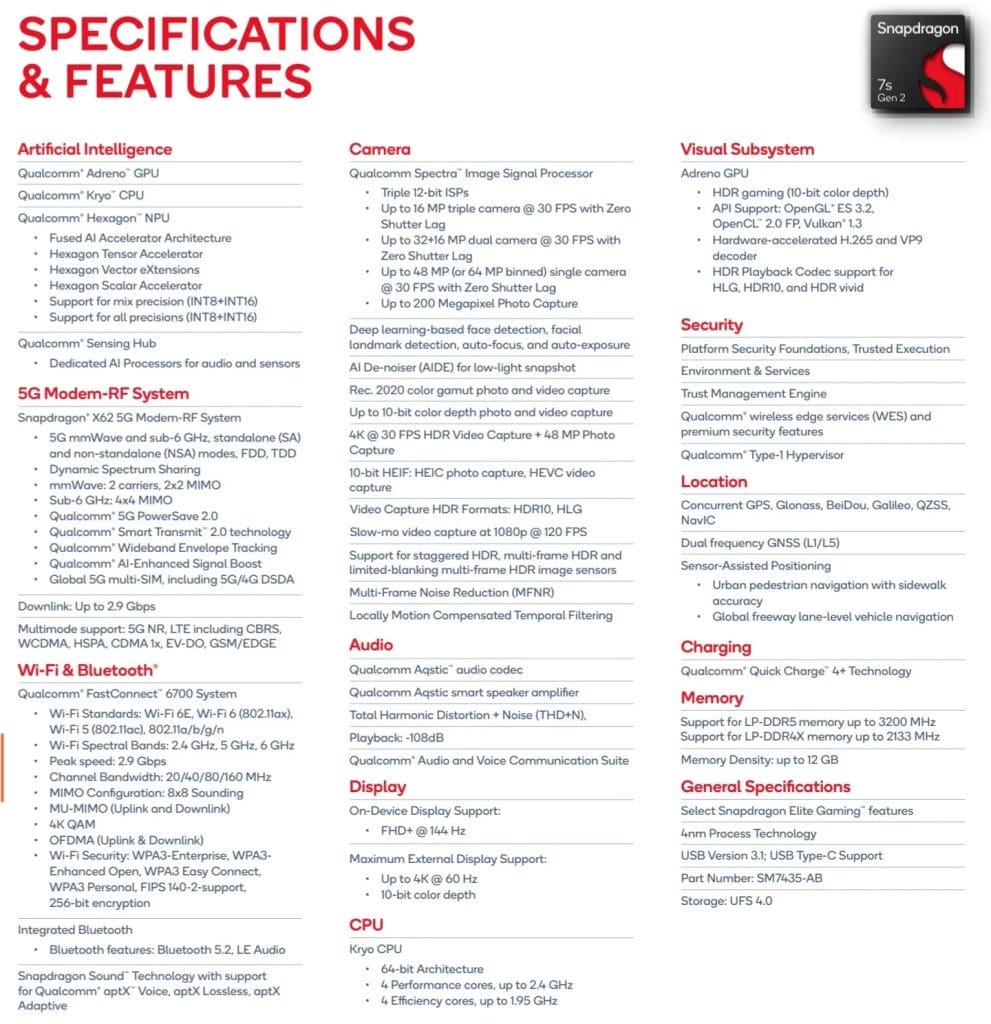 Imaging
Photography enthusiasts will be delighted to know that the Snapdragon 7s Gen 2 is primed to support cameras with resolutions of up to a staggering 200 megapixels. This marks a significant leap in the world of mobile photography, allowing users to capture the minutest details with remarkable clarity. Additionally, the chipset empowers videographers with the capability to record 4K video at a smooth 30 frames per second, ensuring that your videos are as captivating as your photos.
Power of AI
Artificial intelligence (AI) takes center stage with the Snapdragon 7s Gen 2. Housing the Qualcomm AI Engine, Hexagon NPU (Neural Processing Unit), and Qualcomm Sensing Hub, this platform is geared towards providing cutting-edge AI capabilities. Whether it's for image recognition, voice commands, or sensor data processing, the Snapdragon 7s Gen 2 is well-equipped to handle the demands of modern AI-driven applications.
5G Connectivity for a Seamless Experience
With the Snapdragon X62 5G Modem-RF System integrated into the chipset, users can expect blazing-fast 5G connectivity. This ensures smooth browsing, streaming, and online gaming experiences. It's a crucial feature for staying connected in a fast-paced digital world.
Elevated Gaming Experience
For mobile gamers, the Snapdragon 7s Gen 2 offers Snapdragon Elite Gaming features. Variable-rate shading, in particular, enhances gaming graphics, providing a more immersive and visually stunning experience. Whether you're a casual gamer or a dedicated enthusiast, this chipset aims to elevate your gaming sessions.
Battery Life and Charging
Qualcomm's commitment to optimizing battery life continues with the Snapdragon 7s Gen 2. Although exact figures may vary depending on the device, users can generally expect impressive battery performance. The combination of power efficiency improvements and enhanced heat dissipation ensures that your device can keep up with your daily activities. Additionally, with Quick Charge 4+ support, you can quickly replenish your device's battery when needed.
Connectivity Beyond 5G
Beyond 5G connectivity, the Snapdragon 7s Gen 2 offers a plethora of connectivity options. Wi-Fi 6E support ensures that you can enjoy high-speed wireless internet connections. Bluetooth 5.2, including Bluetooth Low Energy Audio, opens up a world of possibilities for wireless audio experiences. NFC (Near Field Communication) facilitates contactless transactions, making payments and sharing information more convenient than ever. Qualcomm aptX Lossless technology ensures that your wireless audio experience maintains top-notch quality.
The Upcoming Redmi Note 13 Pro
Excitement is building around the imminent launch of the Redmi Note 13 Pro, powered by the Snapdragon 7s Gen 2. Xiaomi's Redmi Note series has garnered a reputation for offering impressive features at competitive prices, and the latest addition is expected to continue this trend. The Redmi Note 13 Pro, along with its counterparts, the Redmi Note 13 and Redmi Note 13 Pro+, promises a host of enhancements.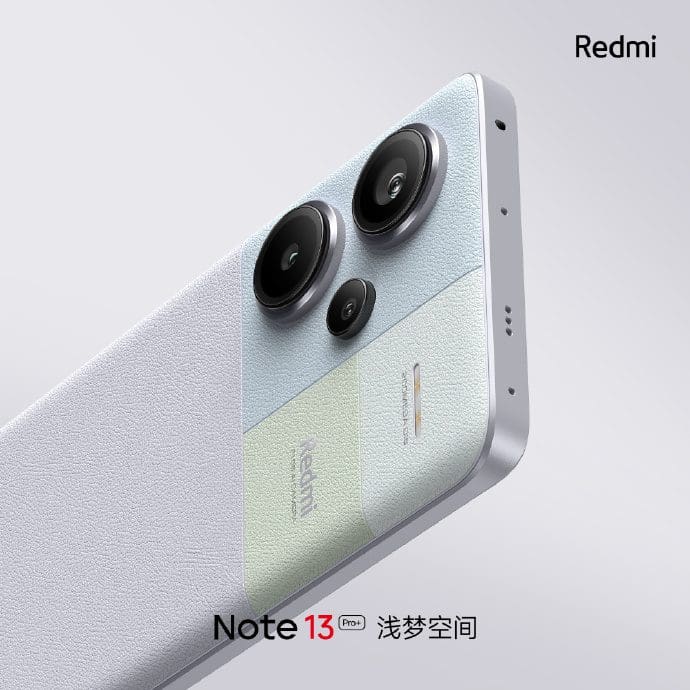 While the core design philosophy of the Redmi Note series remains intact, Xiaomi has hinted at several key upgrades. These include the potential inclusion of the ISOCELL HP3 200MP camera, marking a significant leap in mobile photography capabilities.
Display enthusiasts will appreciate the rumored 120Hz AMOLED display, ensuring smoother visuals and a more responsive touch experience. Additionally, the incorporation of rapid 120W fast charging technology promises quick and hassle-free replenishment of your device's battery.
The Final Word
As the launch date of the Redmi Note 13 series draws near, anticipation is reaching a fever pitch. Xiaomi, known for its commitment to innovation and affordability, is set to deliver a trio of smartphones that push the boundaries of what mid-range devices can offer. With the Snapdragon 7s Gen 2 at the helm, users can look forward to exceptional performance, unparalleled photography capabilities, and a wealth of cutting-edge features. Stay tuned for further updates, as the Redmi Note 13 series promises to make a significant impact on the smartphone market.