Smartphones from major brands often push us to upgrade, but Fairphone 5 aims to break this cycle. Explore this hands-on review of a truly sustainable smartphone.
Every year, tech giants like Samsung, Apple, and Google launch the latest and greatest smartphones. Their message is clear: "Your old phone is outdated; upgrade to the new." While this boosts their profits, it's not eco-friendly or fair to the workers who make these devices. The recently unveiled Fairphone 5 challenges this norm.
The Fairphone 5 isn't just a smartphone; it's a commitment to sustainability. Designed for longevity, it's easily repairable, and upgradable, and promises ten years of software support — defying the typical two to four-year upgrade cycle. We went hands-on with this game-changing device at IFA 2023, and here's what we found.
Fairphone 5: A Familiar Design with Significant Upgrades
At first glance, the Fairphone 5 may resemble its predecessor, the Fairphone 4. Both sport a similar look, including the distinctive triangular camera module. However, significant improvements lie beneath the surface.
One notable enhancement is the camera module's repairability. Unlike the Fairphone 4, where the entire module needed replacement, the Fairphone 5 allows individual lens replacements. It's also slimmer, with symmetrical display bezels, and boasts IP55 certification for improved durability—without compromising repairability.
Overall, the Fairphone 5 resembles recent Galaxy A or cheaper Galaxy S models, offering a sleek design, flat display, and a slightly curved back.
Revamped Display: In comes the OLED
The Fairphone 5 embraces an OLED panel, a major upgrade over its predecessor's LCD screen. Paired with trimmed bezels and a centered selfie camera cutout, it delivers a modern look. While it offers a 90Hz refresh rate (short of the flagship 120Hz), it still provides a premium feel, enhancing the overall user experience.
While the display impressed with its 90Hz refresh rate and vibrant colors, it falls short in brightness and sticks to a 1080p resolution. Despite these minor drawbacks, it's more than capable for daily use.
Cameras: A Swappable, Repairable System
The Fairphone 5 features a primary 50MP Sony IMX800 lens, a 50MP Sony IMX858 ultrawide, and a time-of-flight (ToF) sensor. What sets it apart is the ability to swap individual lenses, enhancing repairability and longevity. The selfie camera, another 50MP module, follows suit.
While the camera hardware is promising, the stock Android software lacks the AI enhancements found in competitors like Samsung, Apple, or Google. It's designed for those with photography expertise rather than relying on AI enhancements.
Fairphone intends to update the software over time, making the camera even better for long-term users. But remember, it's not a point-and-shoot powerhouse.
Modularity and Repairability: A Key Focus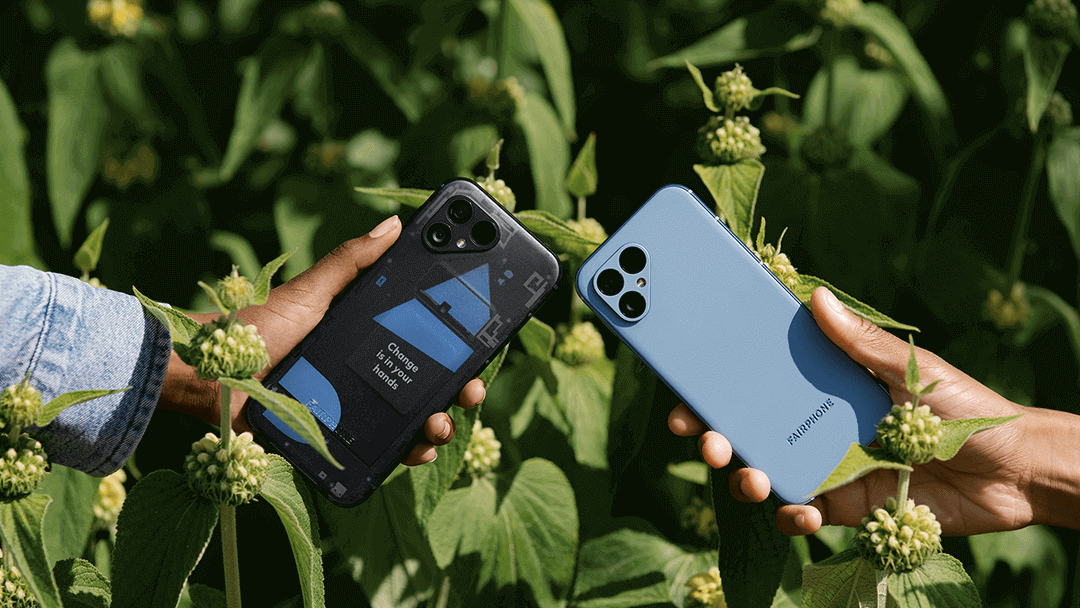 Repairability is at the core of Fairphone's philosophy. The Fairphone 5 is designed to be dismantled with a single screwdriver. You can replace various components, including the display, battery, cameras, earpiece, loudspeaker, USB-C port, and more. Display replacement, the costliest part, is significantly cheaper than major brand alternatives.
Everything is well-labeled and straightforward, making DIY repairs accessible to those willing to try.
Software, Performance, and Unrivaled Updates
Running stock Android 13 out of the box, the Fairphone 5 ensures a bloatware-free experience. Its streamlined software contributes to blazing-fast performance, thanks to a Qualcomm QCM6490 SoC—an industrial-grade version of the Snapdragon 782G. This unique processor comes with an extended update commitment of roughly five years from Qualcomm.
The Fairphone 5 promises eight years of software updates and continuous security patches, setting a new standard in the Android world. It won't necessarily receive a new Android version every year, but consistent security patches ensure a secure and up-to-date device.
Fairphone 5 – Specifications and Pricing
| Specifications | Details |
| --- | --- |
| Display | 6.46-inch OLED, 90Hz refresh rate |
| Processor | Qualcomm QCM6490 |
| RAM | 8GB LPDDR4X |
| Storage | 256GB internal, microSD support (up to 2TB) |
| Battery | 4,200mAh removable |
| Cameras | – Primary: 50MP Sony IMX800 wide |
| | – Ultrawide: 50MP Sony IMX858 |
| | – ToF sensor |
| | – Selfie: 50MP wide |
| Connectivity | 5G (Sub6GHz only), Dual-SIM (1x physical SIM and 1x eSIM), NFC support, Wi-Fi 6E support, Bluetooth 5.2 LE support |
| Ports | USB-C 3.0 port, microSD card slot, no 3.5mm headphone jack |
| Durability | IP55-rated |
| Software | Android 13, 8 years of software support, 5 Android upgrades |
| Price and Availability | Details |
| Price | €699 (~$758 / INR 63,000) |
| Colors | Black, blue, and transparent |
While the price may seem steep for its specs, consider the long-term savings, sustainability, and ethical commitment it offers.
Conclusion: A Niche Winner with a Wider Purpose
The Fairphone 5 is tailored for a specific audience—one that values sustainability, repairability, and ethical practices. It's a well-designed, feature-rich Android smartphone that minimizes environmental impact and supports fair labor practices. If these values align with yours, the Fairphone 5 is an excellent choice.
However, Fairphone acknowledges its niche market and aims to attract new users. The challenge lies in expanding this audience, as the Fairphone 5 caters to a select group who prioritize ethical tech. Yet, it's a step in the right direction, demonstrating the importance of sustainable and ethical smartphone manufacturing.