In the dynamic landscape of virtualization, VMware stands as a cornerstone for optimizing resources, streamlining workflows, and achieving scalability. Yet, even within this robust framework, the specter of data loss can cast its shadow. This is where the significance of VMware data recovery comes to the forefront. As organizations navigate the intricate pathways of digital operations, the assurance of data retrieval proves paramount. This article delves into the realm of VMware data recovery, exploring its pivotal role, proactive strategies, and solutions that fortify businesses against the challenges of data loss.
Why You Need a VMware Data Recovery Solution
In the virtual world of VMware, you may look for a reliable recovery solution when:
Accidental deletions or changes occur.
Hardware failures or crashes disrupt operations.
System or software errors lead to data loss.
Malware attacks or breaches compromise data.
System upgrades or migrations risk data loss.
Tips for Restoring VMware Data Successfully
A dependable VMware recovery solution ensures data safety and uninterrupted operations. You should know that the 3-2-1 backup rule: maintain three copies of your data, on two different media, with one copy stored off-site. This rule mitigates the risks associated with data loss, providing redundancy and ensuring data availability even in the face of unexpected challenges.
In addition, here are some advanced insights and strategies to ensure effective data recovery:
Prioritize Recovery Points: Identify critical recovery points to restore essential data first.
Optimize Resources: Allocate sufficient resources to the recovery process to ensure speed and efficiency.
Streamline Recovery Plans: Create and document recovery plans for different scenarios, enhancing organization during large-scale recoveries.
Restoring VMware Data with AOMEI Cyber Backup
There are only 3 native ways capable of creating independent VM backups:
Manually copying the whole VM folder
Exporting VM to OVF/OVA
VM cloning
If you suffer from cyber threats or accidental disasters, you could restore crucial VMware data from backup. A reliable VMware data recovery solution such as AOMEI Cyber Backup ensures that downtime is minimized, and operational continuity is maintained.
AOMEI Cyber Backup allows you to centrally restore VMware virtual machines with ease. It supports paid and free versions of VMware ESXi 6.0 and later versions.
To restore VMware data with AOMEI Cyber Backup, you could:
1. Download and install AOMEI Cyber Backup.
2. Open AOMEI Cyber Backup and navigate to the "Restore" tab.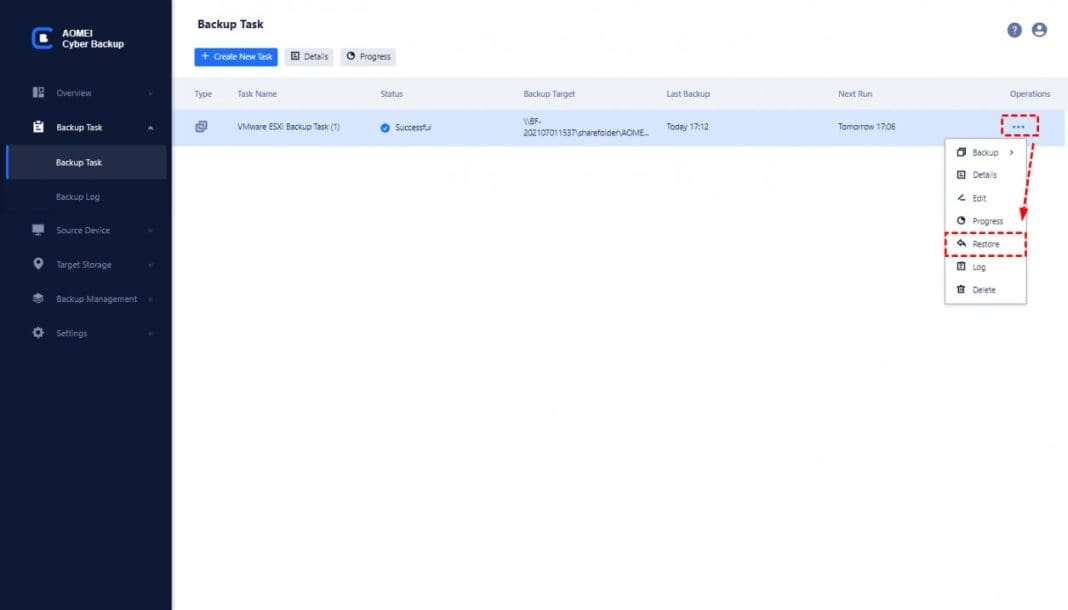 3. Choose the backup image that contains your VMware data you wish to recover.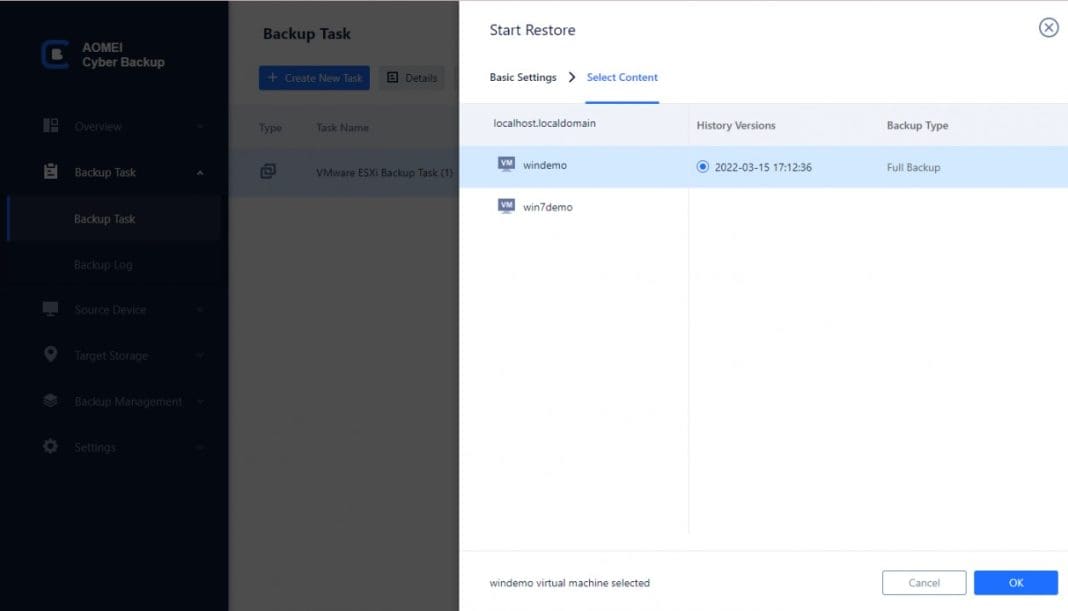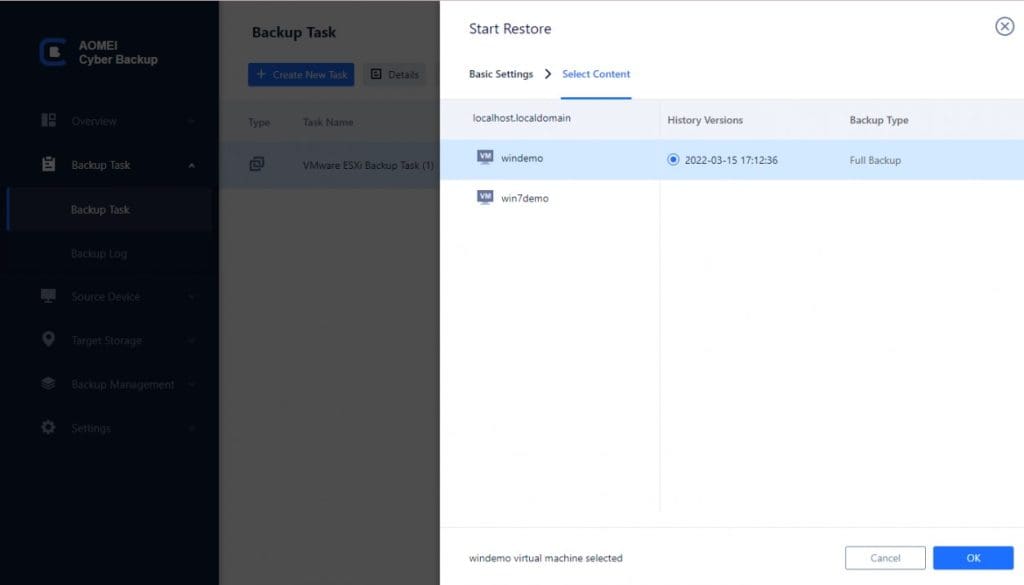 4. Specify the destination where you want the recovered data to be restored. This should be a different location from where the original data was lost.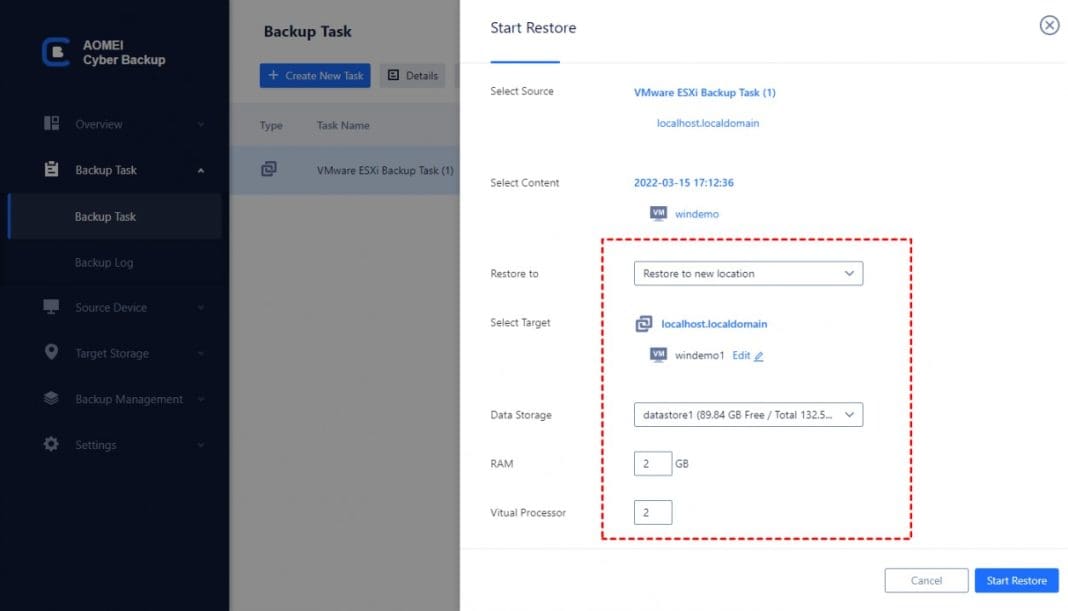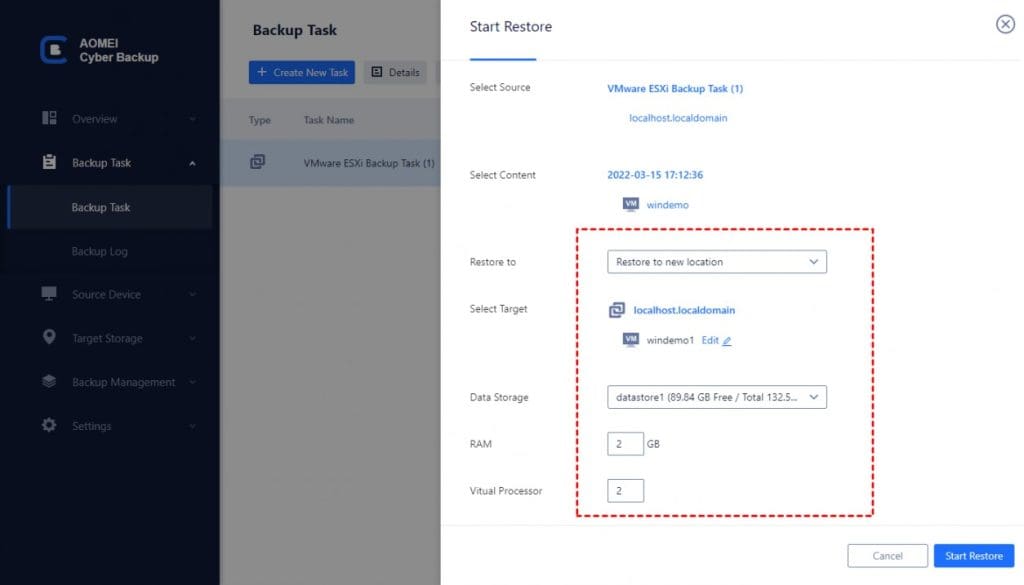 5. Review your settings and configurations to ensure they align with your recovery goals.
Tip: AOMEI Cyber Backup also supports Hyper-V vm backup including Windows 8/8.1/10/11, Windows Server/Microsoft Hyper-V Server 2012 R2 and later versions.
Frequently Asked Questions About VMware Data Recovery
Q: How Often Should I Back Up My VMware Data?
A: Frequent backups are crucial. A common practice is to create daily backups, but the frequency may vary based on your business needs and the criticality of data.
Q: What's the Importance of Testing Data Recovery Processes?
A: Regularly testing recovery processes ensures that your backups are functional and that you are familiar with the steps required for a successful recovery.
Conclusion
VMware data recovery emerges as a formidable shield against data loss's perils. With an understanding of its significance, a grasp of potential data loss causes, and the implementation of effective recovery strategies, organizations can navigate the virtualized landscape with confidence. As exemplified by AOMEI Cyber Backup, mastering VMware data recovery equips businesses to restore their operational rhythm swiftly and seamlessly, ensuring that data loss remains a minor hiccup rather than a major catastrophe.
READ MORE
– AnyViewer: Revolutionizing remote desktop access & control
– iTop VPN: A comprehensive look at features and benefits
– How to speed up Windows by disabling startup programs